Engineered Timber Flooring In Melbourne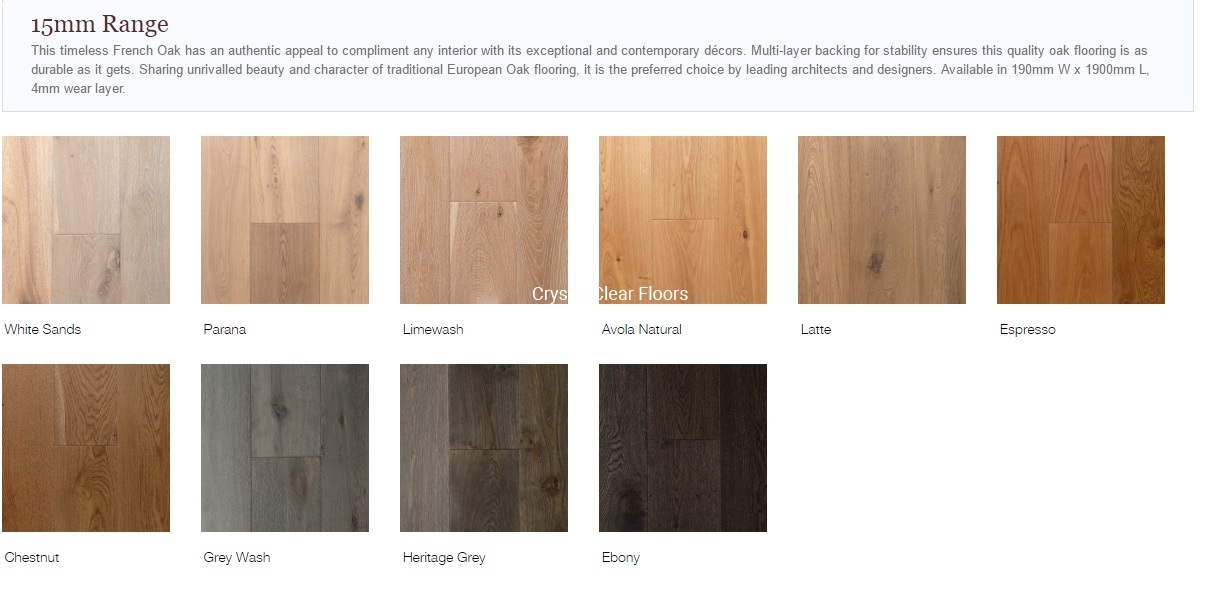 At Crystal Clear Timber Floors, we're proud to offer engineered timber flooring in Melbourne for residential and commercial properties alike, including timeless options such as engineered oak flooring. Stronger and more reliable than traditional hardwood flooring, our engineered timber flooring is a great option that's designed to enhance the aesthetic appearance of your interior spaces.
Our engineered timber flooring also provides fantastic value for money. It lasts longer, feels smoother and looks more contemporary. With a complex design process, the final product will surely win you over and give you a pleasurable experience. Due to its enhanced ability to resist moisture absorption, engineered oak flooring and other timber options are also ideal for use in humid conditions such as basements, bathrooms and kitchens.
Why Choose Engineered Timber Flooring?
The process by which engineered timber flooring is manufactured is an environmentally friendly one. A minimal amount of sawdust is generated, reducing unnecessary wastage. When you walk on your engineered floor inside your Melbourne property, you'll feel the strength of the floor beneath your feet and enjoy the sturdy foundation it provides.
Our engineered timber flooring in Melbourne is also a fantastic solution for businesses and office environments. It's highly resistant to wear and tear, which is ideal if your busy business receives high foot traffic throughout the day. Our flooring solutions are designed to provide a smoother walking experience as well as stability and ease of movement.
Furthermore, there is no denying that engineered timber floors can create an excellent professional ambiance, making them look sophisticated and elegant. The aesthetic appeal created by will help you in communicating to your customers that you are a business that pays close attention to quality!
Frequently Asked Questions
What is Engineered Timber Flooring?
Engineered timber flooring is a type of flooring that consists of a thin veneer of hardwood layered on top of multiple layers of plywood – sometimes up to 12. Due to the use of plywood, engineered timber flooring is an affordable alternative to traditional hardwood floors.
What's the Best Way to Maintain Engineered Timber Flooring?
Maintaining engineered oak flooring or any other type of engineered timber flooring is easy. You can use a soft mop or duster daily to remove dust and other debris, and a monthly vacuum can also help to keep dirt from building up. While cleaning liquids can be used, there are some ingredients such as vinegar and ammonia that should be avoided in order to avoid stripping the flooring of its protective top layer.
How Much Does Engineered Timber Flooring Cost?
How much you'll pay for engineered timber flooring in Melbourne will depend on a number of factors such as the specific type chosen, how many layers it has and how big the area is. For an accurate cost estimate, request a quote from our team today.
What Areas Do You Service?
We service the suburbs of Huntingdale, Oakleigh, Clayton, Brighton, Bon Beach, Balwyn, Malvern, Burwood, Moorabbin, Bentleigh, Mount Waverley, Gladstone, Glen Waverley and surrounds.
Learn More Today about Our Engineered Timber Flooring
At Crystal Clear Timber Floors, we follow the strictest standards to deliver superior engineered oak flooring and other timber options for our clients. Our solutions can be laid down on any surface and will remain locked in place for many years to come, making them a reliable option.
We are more than happy to answer any questions you may have and provide professional advice. Contact us today by calling 1300 887 366, or send us a message via our simple online enquiry form.
In addition to engineered timber flooring, we can also assist with a number of other flooring products and services, including vinyl flooring in Melbourne, commercial flooring in Melbourne and floor sanding in Balwyn.